Citizens First Bank is Celebrating 30 Years! 
---
About Us
Citizens First Bank is a Bauer 5-star rated bank, founded in 1991 specifically to fill the needs of The Villages® community and to conscientiously and joyously serve our residents in every way possible. Since that time, we have stayed committed to our Villages residents and have expanded to serve Leesburg, Fruitland Park, Ocala, and other surrounding communities. Our commitment to core values drives us to provide extraordinary customer service, convenient and welcoming branches, beneficial technology, and most importantly, lifelong relationships.


Core Ideology
Our Purpose
We are a bank created specifically to fill the needs of our community and to conscientiously and joyously serve our Villages residents in every possible way.
—
Founder Harold Schwartz
Our Vision
To nurture lifelong relationships with every person and business in our community.
Our Mission
Citizens First Bank will make dreams come true by providing comprehensive banking resources and personalized experiences to the residents and businesses of The Villages® and surrounding communities.
Our Core Values
Hospitality:
We treat our customers like guests in our home by creating an atmosphere where people feel welcome, comfortable, and confident in their banking relationship.
We greet our customers warmly, give them our full attention, and thank them for their business.
Stewardship:
We nourish and protect the resources of our customers, the bank, and The Villages® through prudent decision making, accountability, and ethical business practices.
We promote our communities and engage in activities that establish the bank as a good corporate citizen.
Innovation and Creativity:
We fulfill the needs of our customers by offering creative ideas and solutions as the financial landscape changes.
We seek opportunities for growth, progress, and efficiency while committing ourselves to excellence in all that we do.
Hard Work:
We take pride in our work and strive to have a work ethic that reflects our commitment to customers, employees, The Villages®, and our communities.
We enjoy the good feeling that comes from exceeding the expectations of our customers and our company.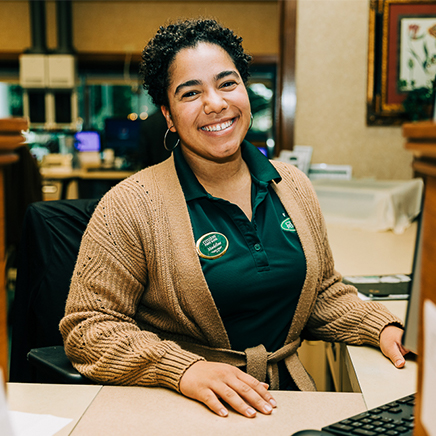 Join our team and grow with us!
---
We're looking for creative and dedicated individuals who help strengthen our presence and make a positive impact on the communities we serve. At Citizens First Bank, we recruit and hire a diverse workforce that works as a team with one common goal: providing extreme customer service!